Hey there. In a time when we are inundated with negative news and altered news, this is a different kind of news: wonderful news.
Allstate and American Family Insurance are reimbursing car insurance customers $800 million for a portion of their unused premiums during the government lock-down. One expert estimated car accidents claims have decreased by 85% by early April! (*)
How cool. Turns out this could expand across all Big Insurance Companies who are experiencing a windfall of profits in light of a cancellation of services.
The Wall Street Journal notes "consumer activist groups Consumer Federation of America and Center for Economic Justice have been petitioning state insurance departments to push insurers to share any large profits with customers" (**)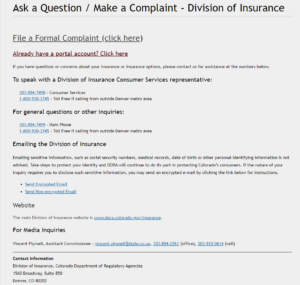 So, if you're feeling a financial pinch and could use the extra funds, feel free to contact (see right) the Colorado Insurance Commissioner. Their job is to protect Coloradans from Insurance Issues.
-Dr. Ross
https://www.cnn.com/2020/04/06/business/allstate-payments-coronavirus/index.html
** https://www.wsj.com/articles/car-insurer-american-family-gives-200-million-in-coronavirus-refunds-as-accidents-decline-11586175602